hotels and apartments
sport and leisure
localities
information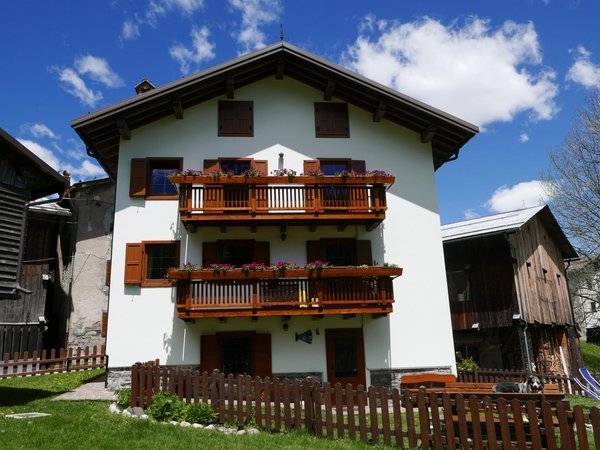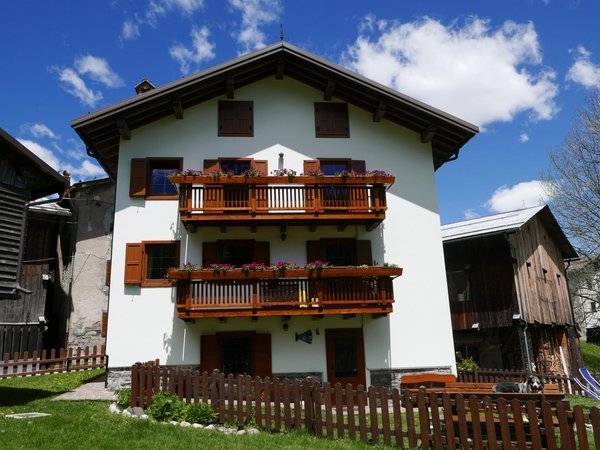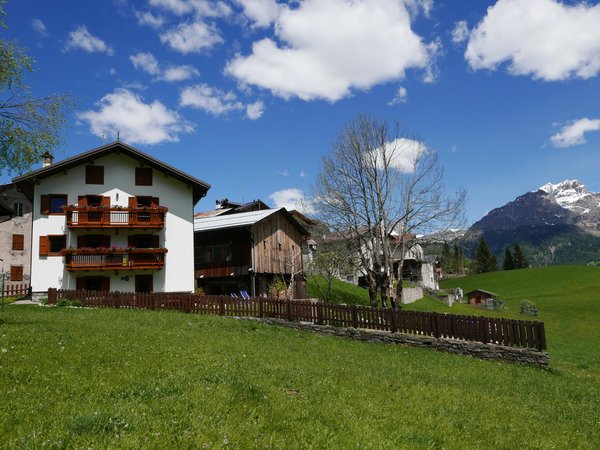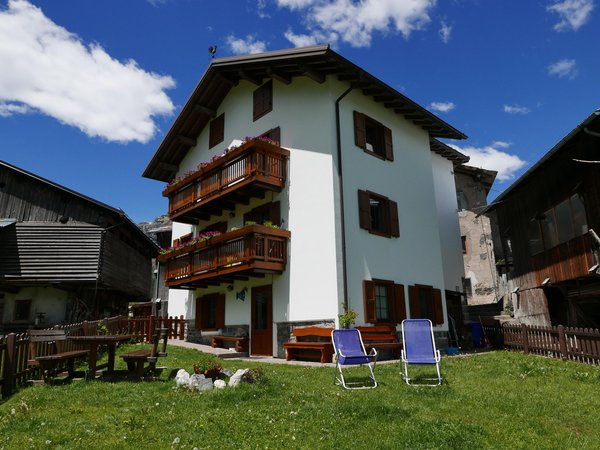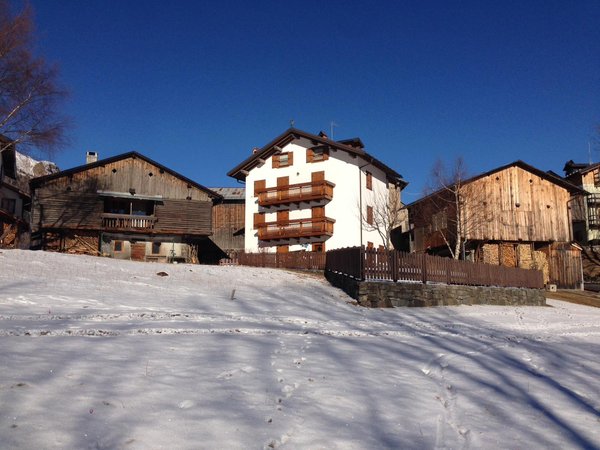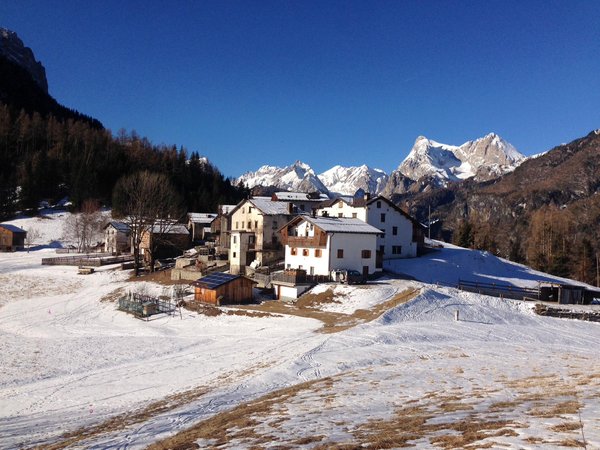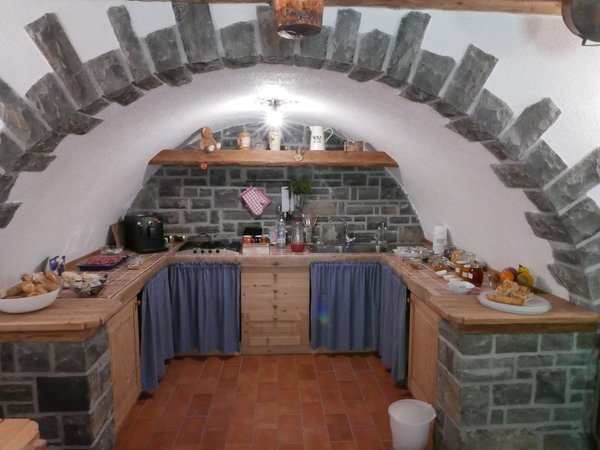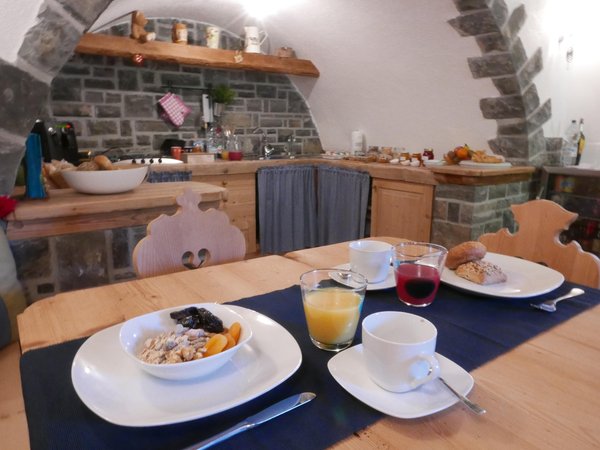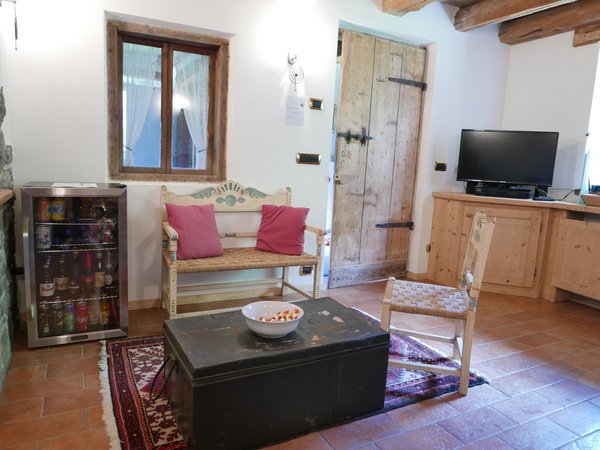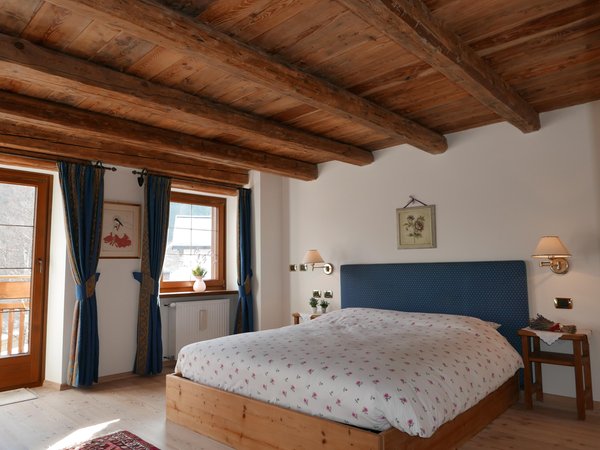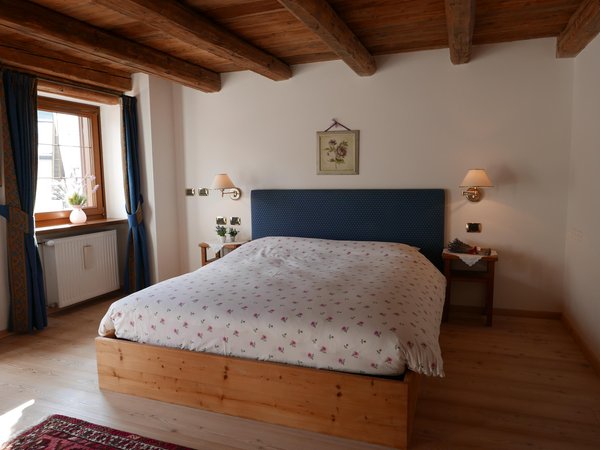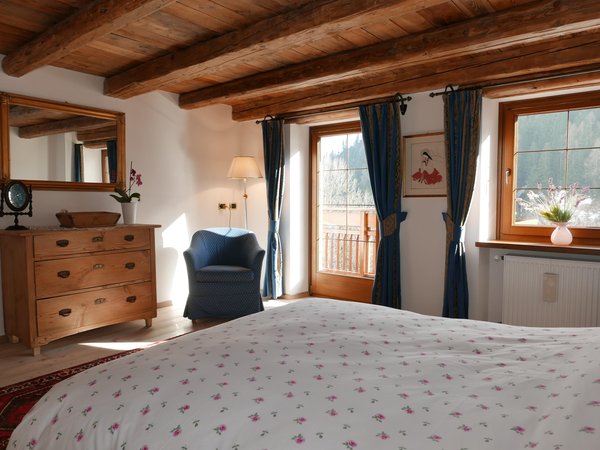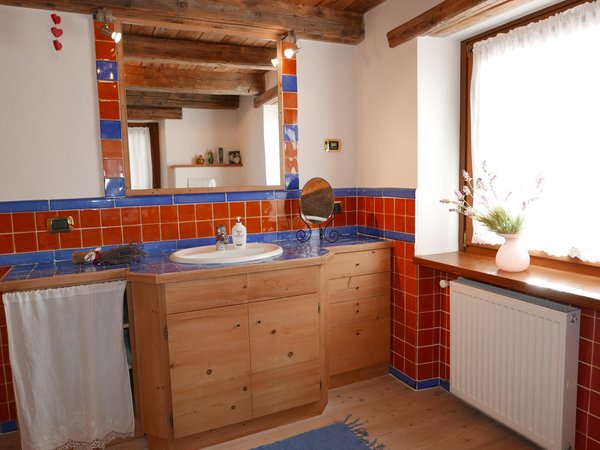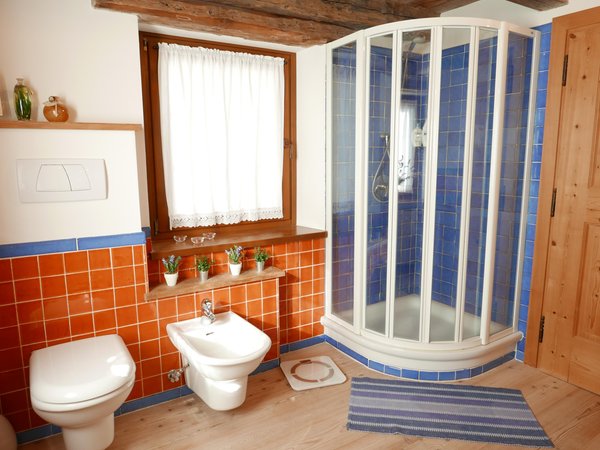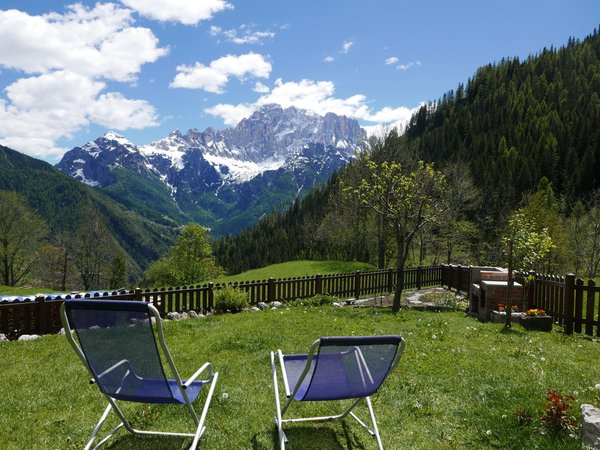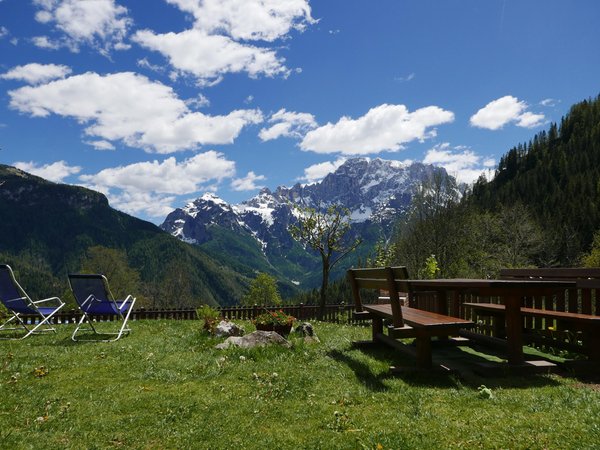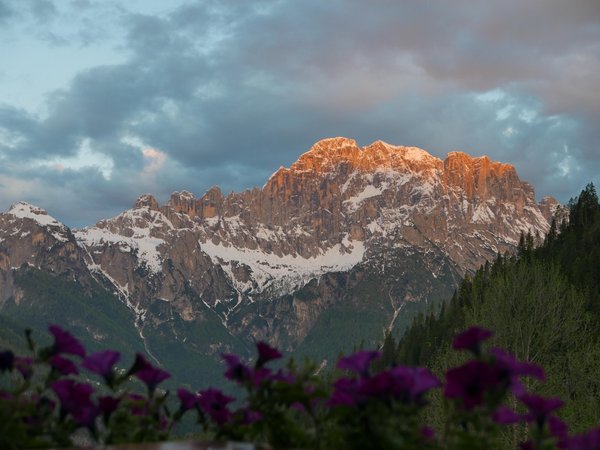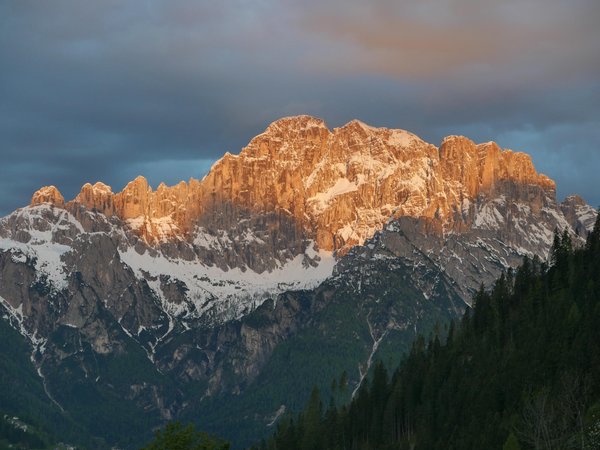 Bed & Breakfast in the center of the Dolomites.
The Bed & Breakfast is situated in Caracoi Cimai, about 5 km from Alleghe and 10 km from the Marmolada and Sella Ronda.
The B&B has 2 rooms with private bathroom available.
The first room has a double bed, a balcony and a large bathroom. The second room is composed of 2 smaller, separate rooms, with a total of 4 sleeps. This room also has a private bathroom.
Breakfast will be served in the 'taverna', featuring a corner to relax in front of the fireplace. Outside there is a garden (facing south) with BBQ, seats, a lot of sun and a wonderful view on the Civetta mountain.
For bikes and motos a garage is available.
The B&B can be reached from the main road, along a 3-km-long steeper road. In the summer this is easy to reach. In the winter snowchains or a 4x4 car are recommended.
For any questions your hosts are always at your disposal.

Licence / identification code: H0250440014
| | |
| --- | --- |
| General information | "bike friendly", "bikers welcome" |
| Facilities | open parking space, common kitchen available, barbecue, garden at guests' disposal |
| In room/apt. | TV, hairdryer |
| Further services for apartments | bed linen and towels, "bread and milk" service |
| Internet | free Wi-Fi in room/apartment and common areas |
| Pets | small pets and big dogs allowed |
| Excursions | SUMMER > guided excursions organised by the facility: trekking | WINTER > guided excursions organised by the facility: trekking |
| Bike | bicycle storage |
| Ski | ski room, nearest slopes at 5km |
| Bonus Vacanze | information for Italian citizens: "Bonus vacanze" not usable |
looking for an accommodation with other services?

>
Availability and approximate prices
Check availability and see prices
1 x Double bedroom

https://images.yesalps.com/hp/822149/295308_camera-roccabruna.jpg

BB

{"S": 2, "M": 3, "B": 0, "N": false}

35 m2

[{"id": "SNG", "qta": 1}, {"id": "MTRL", "qta": 1}]

50€ per person

[{"id": "camera", "letti": [{"id": "SNG", "qta": 1}, {"id": "MTRL", "qta": 1}], "kitchenette": false}]

bathroom (with WC, shower, bidet)

Large double bedroom with private bathroom and balcony.

[0, 1, 2]

[[295308, "camera-roccabruna", 600, 450], [295309, "camera-roccabruna", 600, 450], [295310, "camera-roccabruna", 600, 450], [295311, "bagno", 600, 450], [295312, "bagno", 600, 450], [295301, "panorama-marmolada", 600, 450]]

1 x Quadruple room

https://images.yesalps.com/hp/822149/295313_camera-roccabruna.jpg

BB

{"S": 4, "M": 4, "B": 0, "N": false}

45 m2

[{"id": "SNG", "qta": 2}, {"id": "MTRL", "qta": 1}]

50€ per person

[{"id": "camera", "letti": [{"id": "SNG", "qta": 2}, {"id": "MTRL", "qta": 1}], "kitchenette": false}]

bathroom (with WC, shower, bidet)

Room composed of 2 smaller bedrooms with private bathroom and view on the Marmolada. Ideal for family with kids or 2 couples who don't mind sharing a bathroom.

[0, 1, 2]

[[295313, "camera-roccabruna", 600, 450], [295314, "camera-roccabruna", 600, 450], [295315, "camera-roccabruna", 600, 450], [295316, "camera-roccabruna", 600, 450], [295317, "bagno", 600, 450]]
Availability and approximate prices
The availability and the prices are entered and updated by the accommodation they refer to. As these data are subject to continuous changes, the definitive availability and price must be agreed directly with each accommodation. The minimum and maximum prices can take into consideration only the most common services and conditions of the accommodation; in case of different solutions the prices may differ from the specified range. The indicated prices may not take into consideration several factors, therefore the final price and the details must be agreed directly with each lodging facility. The indicated prices may not include possible costs for final cleaning service or tourist taxes.
Other rooms

:

Available treatments

:

Description

:
Price summary
| from | until | per person per night |
| --- | --- | --- |
| 16 June 2021 | 04 June 2022 | 50€ |
Conditions for children and extra beds
the prices are quoted per person per night
age

*

for existing beds
for extra beds
from 0 to 3 years
free of charge
15€
from 4 to 14 years
-
15€
adult
-
25€
*completed age on the check-out date
Karen
28 years old, Belgium
With partner
vacation period: September 2020
B&B with a beautiful view


A b&b with an amazing view and very kind hosts. A rich breakfast with own home made products.
Favourite features: Information received during the stay - Breakfast - Courtesy and professionalism of the staff - Facilities for cyclists - Facilities for the pets of the guests

id: 1319
Cox
39 years old, Belgium
With partner
vacation period: February 2019
Nice stay in the mountains


We spent a few nights here, we really liked our stay. The house is wonderful and very nicely decorated. For breakfast there is a lot of choice and the owners are very friendly, they recommended nice hikes and places to go. They also have a nice little dog.
Alleghe is close by, but you need to take the car. We cooked in the kitchen a few times, we really felt at home.
Favourite features: Information received before arrival - Welcome/check-in - Ambience - Information received during the stay - Breakfast - Position - Room comfort - Courtesy and professionalism of the staff - Internet access

id: 1161
Map Marmolada
Bed & Breakfast Rocca
Via Caracoi Cimai, 8
Rocca Pietore (Marmolada)